My sister Anne has always been incredibly artistic and creative. I have Anne originals hanging up around my house and I don't hang just anyone's art. Just Monet, Vettriano,
and Anne. =)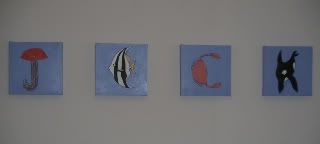 Anne's paintings and drawings really are spectacular so when she decided to take up sewing stuffed animals I was a little bit perplexed. Then when I saw her creations, I understood.
She creates many of her own patterns and she also makes each one into her own work of art paying attention to the little details and the combination of colors and fabrics as only an artist can.
Her creations make perfect gifts for newborns, toddlers, or older kids who collect a certain animal. She does beautiful hand embroidery and even personalization if requested.
Many of her creations can double as decorative nursery accessories in addition to being a snuggly toy or pillow for the little one.
Chase found his star particularly delicious.
She even does custom art for nurseries or children's rooms:
This is her shop in case you'd like to take a look:
PreciousPeaches
And this is an awesome review that was recently done of her shop:
REVIEW
It's also a really cool blog in general that you should check out if you get the chance!
Okay, just had to brag on my sister because I'm super proud of her! =)