This winter has been pathetic as far as snow is concerned! We finally got a few inches last night and it was VERY exciting! =) I was trying to drive home in it and saw SO many cars wrecked, stuck on curbs with wheels spinning, etc. It was crazy!
Here it is falling in our front yard last night:
Here's Jackson's first time out in the snow today. We were gonna build a snowman because one of our friends gave us the coolest "build a snowman" kit, but it was SOOO cold that we decided to go back inside after a couple pics!
Here's Jackson and his Daddy: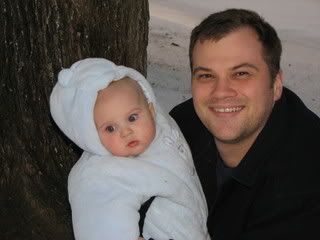 And here's Jackson with his Mommy: