CHRISTMAS TIME!
Christmas was lovely! Alan, Jackson and I were very spoiled. We got gifts galore and had great times with our families.
We started Christmas at Ted and Barb's (Alan's Aunt and Uncle) for the annual Christmas Eve celebration. Jackson got to meet his new cousin, Tanyon Jackson, who was almost a month old. He was really grumpy that night (which he really never is). He was really thrilled to meet Tanyon.
Later that night we opened presents with Alan's family. Here we are at their house.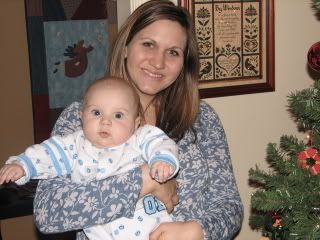 Jackson and his mommy
Jackson and his Daddy.
The next day we went to Alan's Granny and Poppa's for Christmas.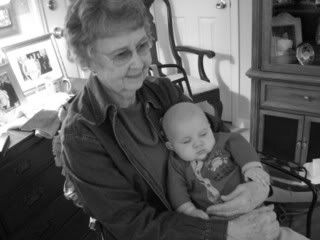 There's Jackson being snuggled by his Great Granny.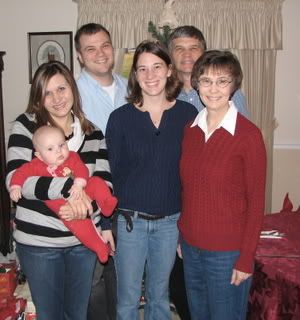 Here we are with my inlaws. They are a very nice family!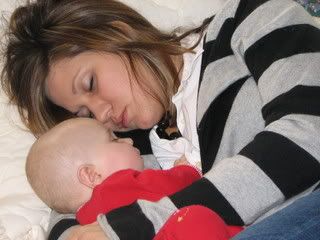 This is one Alan took of me. I snuck out to feed Jackson and an hour or so later Alan came in and found us asleep and he took this one. It was a lovely Christmas nap!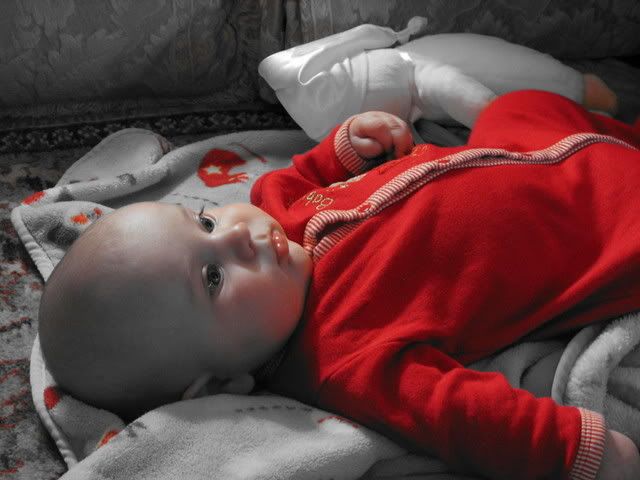 This is one of the great gimmicky things my camera does. It can highlight and accentuate any color I choose. Red, for example!
It was a lovely Christmas and I'm getting used to all of Alan's 3rd and 4th cousins and random aunts and great uncles that show up (this was our 5th Christmas together). It's like a big party!
Next we headed up to my parent's house in NoVa. We were having a late Christmas because Anne went on a cruise with her husband's family so we waited for her because we're nice. Plus Christmas wouldn't be Christmas if we weren't all there.
Here's our Christmas morning. Aunt Becky and Aunt Lizzy helped Jackson open his stocking. His favorite stocking stuffer seemed to be this duck (even though it doesn't seem to be that way in the picture below). It quacks when you squeeze it and he always looks at it with a puzzled look when it does.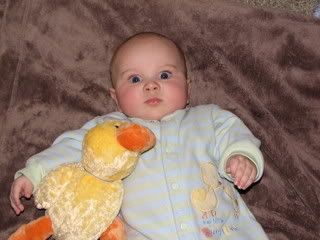 Here's Alan and I:
I really like him. And love him.
This is Auntie Annie with her favorite nephew, Jackson:
Here's the family at our delicious Christmas dinner. The fam + Matt (Lizzy's boyfriend). I like ham so much better than Turkey. It's one of the many reasons that Christmas is better than Thanksgiving. Just a side note.
This is what Jackson did during dinner. He slept on the floor next to my Dad, the baby hog. This was a big step for Dad since he usually insists on holding Jackson in his lap during meals.
It was so nice being home. My Mom is an incredible hostess and I just love being with my family. We all get along SO well and there's just nothing like being together. That about sums Christmas up!